THIS MONTH'S QUESTION: WHY DO MEN SEND UNSOLICITED DICK PICS?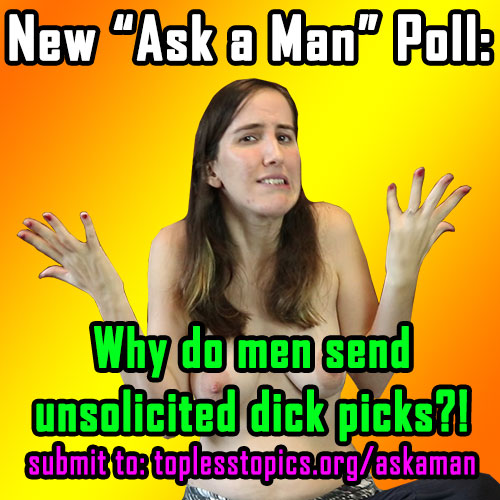 Submit your answer in the form below!
If you need it, here's a guide on how you can submit your answer in various formats: https://www.toplesstopics.org/contact/collaborate/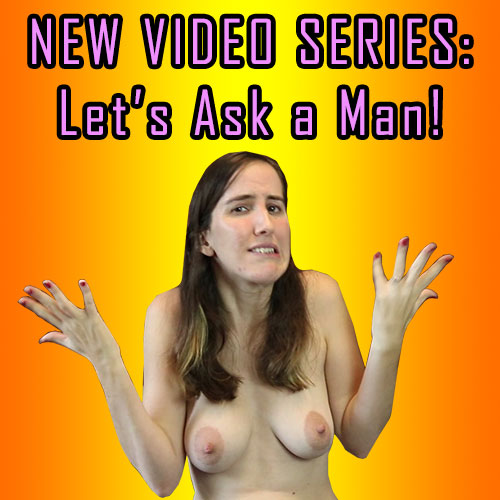 Welcome to a new project I'm initiating, which I'm for now calling "Let's Ask a Man!"
The premise is, I hope, simple and inviting: as much as I'm always on the hunt for more women and nonbinary potential cohosts, I don't want to alienate all the men who are interested in Topless Topics content as well, and I'm sure many of you are also interested in sharing your opinions amongst yourselves. So to get the ball rolling on that, I want to start inviting you, my male-identifying viewers, to respond to general questions with a video (or audio) recording, that I can then edit into a "highlighted responses" reel as well as a playlist linking to your video, for those who want to see the whole answer.
So, the process would be something like this:
I put out the general question for that time period (a week, a month, we'll have to try it a few times to see what works best)
Anyone interested in responding to that question records your video or audio answer and submits the file to me, either directly (dropbox, etc.) or by posting it to your own Youtube/Facebook/etc and sending me the link, which I can then download
Over the course of that time period, I'll watch and cut out highlight sections from each submitted video (as long as it's pertinent and not rude) to include in a composite video that poses the question at the beginning, with the highlighted sections included afterward.
I will also form a playlist per posited question that links to the full videos/audio submitted for it. If you're submitting your file directly to me, this means hosting the file on an alternate account I run. However, if you have your own Youtube/Facebook/etc channel you want to gather subscribers for, this would be an excellent way for you to generate some more traffic!
Sound interesting? I hope so! I'll soon be putting together a video that asks for entries into the first "Let's Ask a Man" community question, and if you want to make sure you don't miss out on that video, then please sign up for the newsletter by clicking here: https://www.toplesstopics.org/newsletter/
Just a few more notes, then I'll put up a form where you can submit your videos, once a question has been asked-
"What do you mean by video OR audio? Will there be an audio-only version of "Let's Ask a Man" as well?"
-While I do hope to someday start an audio-only Topless Topics podcast featuring a lot more interviews and on-the-ground reporting, my intention for "Let's Ask a Man" is to keep it as a video series, just like my (admittedly irregular) "Sexuality Sundays" and "Freeplay Fridays" type video series. However, I know that many members of the Topless Topics community are not in a position to comfortably record their opinions about Topfreedom on the internet where their faces can be identified, so I want to leave open the option of recording audio only and using a graphical representation on the screen while your audio clip is playing. To submit such an icon, you can either submit the icon along with your submission using the form below (no copyrighted images please), or if you like, you can send a real picture of yourself (using the same form below) and check the "hide my identity please" box, at which point I'll be sure to apply some heavy filters to your picture so that your identity is obscured (something like this). I hope that that encourages more of you to take part in this video series, as the more discussion we can have on topfreedom and other related topics, the better!
"What type of responses will/won't you allow? If my opinions about the subject have something to do with sex, race, etc. does that mean you won't accept my submission?"
-This is going to be a little tricky to navigate, and honestly we'll have to see how it turns out. My hope is that responders will be mature and consciencious enough not to include blatantly offensive content in their responses, and that those who reveal themselves as trolls will be easy enough to simply block and move on. As far as what you're allowed to answer, honestly, it's your video, so say whatever you want. However, anything that openly insults a person/race/gender/etc I am unlikely to include in the highlight reel, and unlikely to link to in the playlist either. I'm not saying you have to agree with me to be featured (I'm not planning to put my own opinions in the video at all–the name of the series is "Let's Ask a Man," after all, and I'm definitely not male-identifying). For instance, if the question is "how do you feel about cultures that require women to wear clothing in addition to shirts," and your response is something like "I think such cultures objectify women even more," then that's a valid opinion that I would most likely include in the highlights, space permitting. I won't, however, include any answers that encourage violence or insulting behavior towards any person or category of persons. Does that make sense?
"What is the ideal length and format for my submission?"
-I'm not going to set a hard length limit on submissions just yet, but the longer your submission is, the less likely I'll have time to watch and edit clips out of it for the highlight reel. If you don't care about making it into the highlight reel and just want to be included in the playlist, you can submit longer videos, and as long as you ascribe to the rules above (nothing blatantly insulting/violence-inducing), I'll try to include it once I've had a chance to review it. Ideally, please keep your submissions to 15 minutes or less, and the shorter they are, the better.
Now, onto the submission form: