PLEASE NOTE: this website is currently under construction, so please excuse the mess!
NEW! Support Topless Topics by purchasing artistic nude digital photos through Gumroad!
While I continue to deal with Stripe's ridiculous policies against selling any nude photos as "sexually explicit content" (see my ongoing saga with them here: toplesstopics.org/fkstripe) I'm trying out Gumroad for selling my artistic nude photos instead. Unlike Etsy, Gumroad takes a percentage from every sale instead of charging me every month just to have the purchase option available, so it's a lot easier for me to set up. However I'm going through re-editing all my photos to look better, as well as change up the way I have them watermarked (since assholes love to steal my photos then reupload them elsewhere without my consent 🙃) so I only have a few images up there for sale so far. Rest assured I'm slowly adding more options (as I simultaneously work on a million other projects in Topless Topics' behind-the-scenes…) so if you remember some favorites you want to purchase, they'll be up soon!
I'm also really hoping I can find a talented, respectful, reliable photographer in the Portland area to set up some new photoshoots with, hopefully some more interesting ones like maybe a mythological-creature body paint themed one, or experimenting with black and white shadows. If you are or know of any photographers with experience taking photos of artistic nudity, feel free to contact me! https://www.toplesstopics.org/contact/
How to Purchase a
Topless Topics branded T-shirt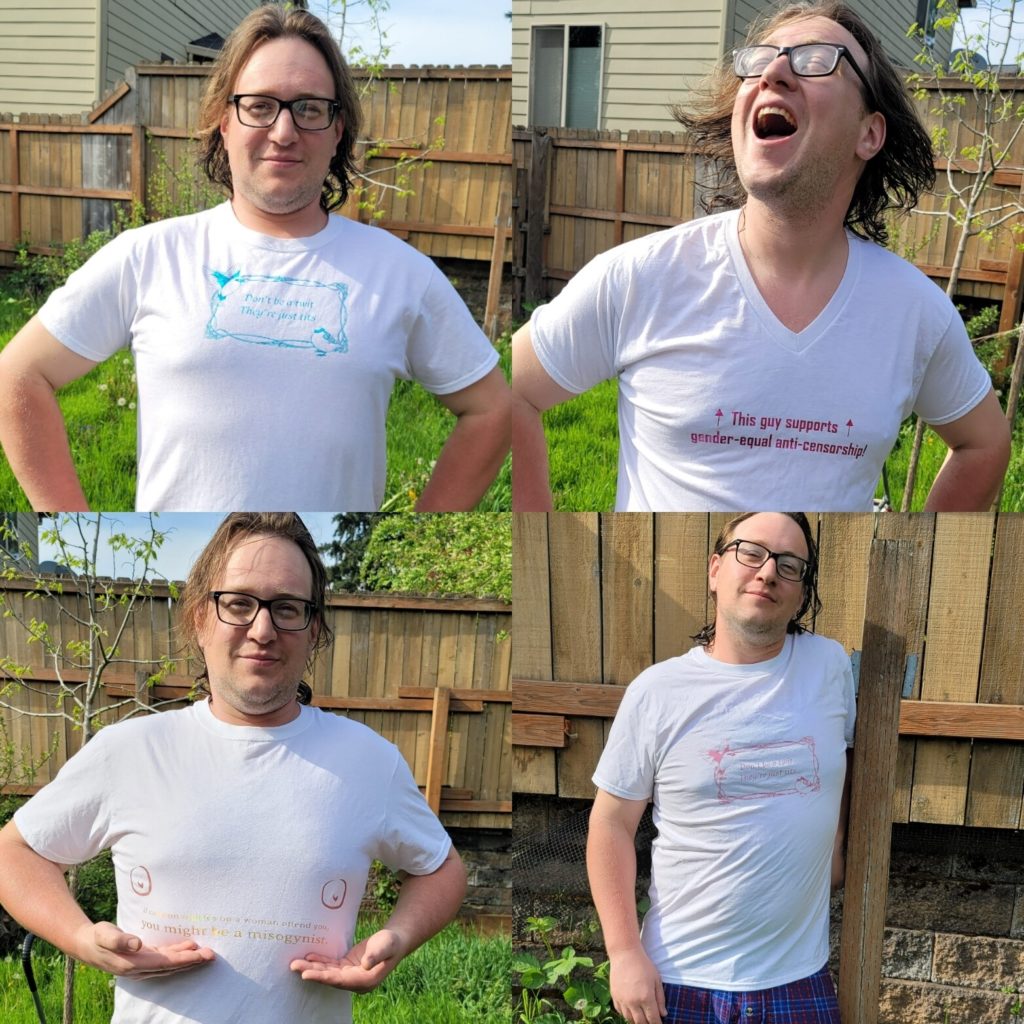 Want to show your support for Topless Topics, topless equality and/or gender-equal anti-censorship while you're out and about? Custom-made Topless Topics T-shirts now available!
Interested in helping to keep Topless Topics running? Please consider any of the merch/commission options below!
Scroll to section:
Method one: become a Patreon Donor
Method Two: Donate One-Time Directly
Method Three: Buy Access to Posts on Onlyfans
Method Four: Purchase Digital Prints from my Artistic Nude Photoshoots
Method Five: Hire Me for your Illustration and/or Graphic Design Gig
Method Six: Purchase custom, handmade Topless Topics-branded vinyl print t-shirts and/or tote bags
Of course, the biggest help you can be to Topless Topics is to help me get past the constant shadowbans/outright bans by sharing links to my content on your own social media profiles–you can find detailed instructions on how to do that here: https://www.toplesstopics.org/howtohelp
In addition, if you'd like to help me with the financial aspect of running Topless Topics (paying for video hosting, creating custom hand-made merchandise, paying professional interviewees for their time, and so on) then I have a few methods you can do so below:
Pretty much since I first founded Topless Topics, I've also had a Patreon account set up for those who want to help me get by month to month. Since all my videos are banned from monetization (accruing small amounts of money via ad clicks), I have to solicit donations directly, much to my chagrin.
It's been a challenge coming up with special perks for Patreon donors–Patreon themselves have fought against "adult" creators like me over and over, plus the time constraints of trying to come up with special-access content when I'm already stretched so thin. If you've never heard of Patreon before, it's a creator-funding site where you can sign up to donate a certain amount every month, cancellable at any time.
Currently I have two tiers for donations available, the $2 Pollywog tier and the $7 Salamander tier. You can read more about what the tiers include, as well as sign up to be a donor, on my Patreon page: https://www.patreon.com/ToplessTopics
Method Two: Donate One-Time Directly
This is more awkward since online financial vendors are so difficult about allowing their services to be used by "adult" creators, but for now I have these routes available-
Method Three: Buy Access to Posts on Onlyfans
I really hesitate to even offer this option, since 1. OF is regarded by most as "a porn site" and therefore by hosting any of my content there, I'm 'admitting that my content is porn'; 2. OF takes a massive 25% cut from every sale; 3. it feels incredibly hypocritical to put a price tag on access to viewing my body, when the whole purported purpose of Topless Topics is to normalize the sight of female nipples so that maybe someday we can have the same rights as men.
However, for whatever reason–convenience, most likely–some of my followers have asked about purchasing posts directly, rather than donating through the above methods. So to that end, I made a pay-per-post Onlyfans account, which you can subscribe to for free here, then only purchase the posts you want to see: https://onlyfans.com/toplesstopicsfree
You'll notice I don't update it often, and only have a few posts up there so far. That's again because I'm disinclined to encourage OF posts as a main method of paying me, but if you want to help me out financially that way, well, there it is.
Method Four: Purchase Digital Prints from my Artistic Nude Photoshoots
Over the years I've tried a variety of methods to sell prints from the handful of artistic nude photoshoots I've done, and unfortunately I have yet to set up one that works reliably and efficiently without costing me more money than I was earning, or getting me banned.
First there was Etsy, which is iffy about allowing "adult content" in the first place, which costs money every month just to have the listing for each item up, as well as taking a cut from each sale. They also tend to shadowban stores they deem as "mature" (when they don't ban them outright), so honestly it was costing me more to host on Etsy than I was earning. (As for physical prints, I need to put together a kickstarter to get a large order of the most popular prints first…I was printing them out individually, but getting a home printer to work reliably proved a futile task)
Then I tried to set up an e-commerce site here on the website where you could simply add to cart, pay, and get the print sent directly to you, but setting up e-commerce sites requires the use of a financial vendor service–and unfortunately all of them, including the most ubiquitous one Stripe, ban the use of their services for "adult" sales. Stripe is even so fascist that they wouldn't let me use them to get paid for sponsored ads on my audio-only podcast, because I have female nipples visible anywhere on the internet. Read the details of that insanity here: https://www.toplesstopics.org/fkstripe
So for now, I have to go the incredibly awkward route of asking customers to use the photo-picker at https://www.toplesstopics.org/ppv to let me know which photos you want, then "donate" the appropriate amount using one of the above methods (paypal, venmo, cashapp, or ko-fi) and I'll email the files to you myself. It's tedious, it's ludicrous, but until financial vendors stop categorizing female nipples as porn, and banning the use of their services to sell porn, I'm not sure what other options I have.
Method Five: Hire Me for your Illustration and/or Graphic Design Gig
If you didn't know, in addition to being a topless equality activist and online content creator, I'm also a professional Graphic Designer. For all these years, I've done all my own thumbnails, logos, business cards, flyers, etc, as well as those for other clients (unfortunately I only know how to do visual stuff, not actual HTML/CSS coding, so actually creating websites from the ground up is beyond my expertise). I haven't had the chance yet to resurface and reorganize my graphic design portfolio website, but I also do illustrations/drawings, and you can see some of my past work over at DeviantArt: https://www.deviantart.com/otherwiseartblog
Otherwise Art (or Otherwise Art Blog when the former is already taken)–| Twitter | Instagram | Facebook –is a relatively new identity I've been creating specifically for hosting my artistic works and pursuits–in the someday-maybe future where I have more time to work on my many side-passion projects, I want to start doing regular art livestreams, etc, based around this identity. For now, you can check the DA page for images of past work, and if you'd like to hire me for future work, contact me so we can discuss the project, see if it's within my skillset, and how much it would cost! www.toplesstopics.org/contact
Method Six: Purchase custom, handmade Topless Topics-branded vinyl print t-shirts and/or tote bags
This is VERY new, and requires a lot of time for me to make and send out each project, so I'm only doing these made-to-order with a long expected delivery time, because I'm having to hand-make each product myself (in addition to creating and maintaining the entirety of all things Topless Topics). I'm hoping that in the future I can find and purchase bulk-order made products from a t-shirt printing service, but this requires funding ahead of time (the more you buy, the cheaper they are), and would provide a lot fewer customization options (like picking your own vinyl color, t-shirt style and size, etc).
You can find some sample images, as well as more purchasing information, here:
As for other types of branded content, like coffee mugs and USB drives, I don't currently have the equipment required to make these. However if you're interested in someday purchasing something like this, let me know and I'll make note of it for potential future crowdfunding initiatives!
So that's it for now–thanks again for your interest in helping me fund Topless Topics, and who knows, maybe someday I'll be able to find a sponsor that isn't afraid of being linked to """""pornographic"""" content like mine (sarcasm), and that'll help pay for things like a social media manager who can handle the back-end duties, freeing up my time for more actual new content!
And again, beyond financial assistance, the best help you can be is to simply let others know about Topless Topics by talking about and linking to my content on social media– you can find a detailed guide on how to do that here! www.toplesstopics.org/howtohelp