!ATTENTION!
Regrettably, Vimeo, the website I have used for years to host my nonsexual nude videos (for $1000/year) decided that they want to start charging me many thousands more for the "Enterprise" package because I'm allegedly "over bandwidth" (with only 126k viewers a month, so sure, whatever…)This has necessitated me to pare back my available NSFW content greatly, and given how large the after-streaming livestreaming recordings are, they have to be the first to go.I'm in the process of removing my content from Vimeo entirely and finding my own direct host to place them on instead, but this takes time and money and I will have to hire my much-more-tech-inclined web dev friend to help me with the process, so I don't know how long this will take.(Alas none of the "free" websites like Youtube or Facebook will let me upload my videos, even highly censored versions, and I refuse to upload my videos to porn sites like pornhub because they are NOT PORN)In the meantime, the live versions of each stream will continue–every Saturday from 3 to 7pm pacific standard time–and sometimes at unscheduled times, when I have someone else available to watch my kids for a time (namely, just during their very brief nap times, or on the days my husband is off work, if he's not too tired/irritable.) Be sure to follow me on social media for an alert whenever these unplanned livestreams happen! https://www.toplesstopics.org/contactI'll experiment with uploading straight to OnlyFans as well–I have no idea what video length or bandwidth they allow, but it's worth a shot.Sorry about all this, thanks for your patience, and hey! Maybe someday I'll have enough money to hire staff for all the administrative and promotional stuff so I can focus entirely on making new content! (haha yeah right x.x)
Welcome to my livestreaming page! This is where I embed whatever livestream I have going on currently, and/or info about upcoming livestream events.
If I'm currently livestreaming, the stream will show up here:
Regular Livestream Schedule
Starting August 2020, I switched my regular livestream schedule around to thus:
Donor-Only Livestreams, Every Saturday @ 3-7pm PST
Open to OnlyFans subscribers and $7+ Patreon donors, check your appropriate subscription page for a custom link at the start time of each week's stream
Activities include: editing videos, drawing artwork (sometimes using "adult"/erotic reference photography, since that's what people pay for), creating promotional artwork and signage for Topless Topics, working on traditional media arts and crafts, etc.
These streams DO contain heinous female nipples, possibly below the waste nudity depending on the activity (like editing my "what is nudism" community question project), but they do NOT contain any sexual activity, so if you sign up for a subscription hoping I'll -finally- starting doing X to my Y for your viewing pleasure, you're gonna sign off unsatisfied. As always.
I keep the Vimeo (which is the only allowed choice for nonsexual-nudity-friendly livestreaming) chatroom open during the stream, but I encourage viewers to communicate with me during the stream using our Discord chatroom, click to join here!
If you're interested in becoming a donor, you can do so at these links (along with information about each):
Free/Public Not-NSFW Livestreams, every Sunday 1-4pm PST
I stream through Twitch and/or Youtube (if I feel like getting even more haters than usual), and will have each respective chatroom open on my second monitor but I do, as always, encourage everyone to chat on our Discord server instead! (click here to join!)
As Twitch and Youtube will ban me for so much as a low-cut shirt, obviously I can't do anything "NSFW" including being topless or having any kind of topless or nude stuff showing on my screen (which means video editing is out, as are most of my digital illustration projects like my "Day in the Life of a Topfree Activist" webcomic), so generally my streams are me playing a video game (lately a lot of Fortnite plus whatever else I happen to be playing at that time like Ancestors or Remnant or spooky indie horror games) or non-nudity-involving arts and crafts, like sewing masks and tote bags, maybe painting a flower or some inoffensive fluff like that. I'm open to suggestion for what activity people want me to do during the livestream, AS LONG AS THEY'RE NOT SEXUAL REQUESTS (seriously, what are you not understanding about that part??)
Regarding Unplanned/Unscheduled Livestreams during the week
As much as I would (truly!) love to livestream more often, my home life (mother of a preschooler and toddler) is so chaotic that it's really not possible for me to swing except on the rarest of occasions (and even if I could it would be during their nap-time in the middle of the day, when few people are available to watch the stream anyway…). If it's ever safe to have in-person schooling again, then at least I can drop Link off for a few hours and only have Aeden to contend with, but for now, these weekend streams are the only regular scheduled thing I can commit to (and even that is with effort!)
But who knows, maybe someday I'll finally become "internet famous" enough to afford a live-in nanny and start livestreaming whenever I want to! XD (Hey, it's important to have goals!)
If you're totally starved for new content, don't forget that I have literally HUNDREDS of videos up already, and I try to get one or two new ones out each month (more if my kids have been amazingly well-behaved so I can get more video editing done)! You can become a patron for early access to all new videos as soon as I finish editing them, or stick around for a few weeks after when each video becomes available to the public! And don't forget to follow me on social media for an update every time I have new content coming out! Here are the links to follow:
ATTENTION! Since WordPress switched to the Gutenberg editor, video embeds no longer display correctly. So you'll have to go here and watch me directly through Vimeo until I can learn how to code well enough to fix it!
Want to Chat with Cleo and other Topless Topics Community Members during the stream?
I try to leave the respective chat window open (Twitch for gaming streams, Vimeo for anything involving nudity or female nipples) but sometimes it gets hidden by other windows I have open. And either way, the chatroom becomes unavailable once the stream ends.
So! It's much better for you to hang out in our Discord server, which is full of friendly people at all times, and is broken up into rooms by specific interest (nudism, gaming, etc), or you can always just shoot the breeze in our general rooms too! We're all very friendly and happy to talk, we don't bite 🙂 (Although if you do come in and immediately start insulting/berating/sexualizing anyone, you will be banned, so…don't?)
It's easy and free to sign up, you can even use fake info if you want. We're just doing it this way because Discord requires you to register to use their servers, and because it helps us cut down on spambots and trolls. Hope to see you there!
Chat with Cleo & others by joining our Discord chat server: click here!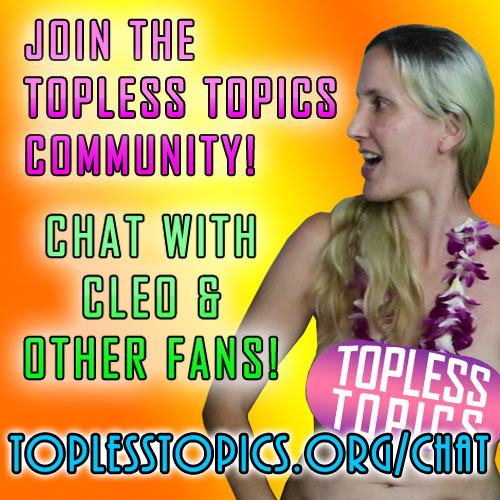 Missed the Livestream?
Recorded versions of each stream are available on the Topless Topics Vimeo account: https://vimeo.com/toplesstopics
Are you a Topless Topics supporter? Want to help me pay for things like truly topless livestreaming, better recording equipment and more? Then please check out the DONATE page for several routes you can send support, including purchasing digital prints and (someday) other products through the STORE. Thank you so much in advance!

---
Past Livestreams
Unfortunately as previously mentioned, I've had to constantly remake accounts every time a new one gets banned as "adult/sexual content" purely for having nonsexual female nipples visible in them, so past streams are spread all over the place, and most are no longer available anyway.
In April 2019, I upgraded to Vimeo Premium, which is the only place I've ever found that allows nonsexual female nipples (and indeed, nonsexual nudity in general). However, only their highest, most expensive tier allows livestreaming, as well as various other perks (most of which I have no use for). I'm set to renew in April of 2020 for $1000, but unless I can establish a lot more regular viewership, then it's not worth the expense and I'll be downgrading back to Vimeo Plus (which also means having to delete pretty much all my livestream recordings). If you are interested in helping me continue to livestream, then please donate, a variety of methods are described here: https://www.toplesstopics.org/donate/
You can view past livestreams on my Vimeo account here: