Currently (as of January 2023) I livestream every Tuesday and Thursday 12-3pm PST at https://www.joystick.tv/u/toplesstopics and every Saturday 3-7pm PST at https://www.twitch.tv/cerigotgame
The VODs from Twitch are available on my Twitch page (see above) but the Joystick ones are more complicated
As with my regular edited topless videos, the only place I currently have to upload them uncensored is TROM (https://videos.trom.tf/c/toplesstopics/videos)
But I have a 5gb-a-day limit there, and my 3 1/2 (or longer!) livestreams usually go over that. I'm trying to figure out how to use software to get the file sizes down without completely destroying the quality, but it's complicated and requires different settings for every video, so it takes me a while.
That's why I don't have every single livestream uploaded reliably. I'm working on it, please be patient. 🙂
(Or, donate to Topless Topics and/or buy my artistic nude photography prints so I can afford to pay for my own video hosting, with no daily limit!)
Livestreams Uploaded So Far
1-26-2023: Video Scripts, Video Editing, a Horror Game about a Frog, and Revisiting Ark!
1-24-2023: Editing Tiktoks and Sexy Adult Game Clips!
12-08-2022: editing a vlog about internet security and testing out new makeup
12-6-2022: Topless Topics Donor-Only Livestream Part 1 & 2
9-27-2022: Topless Topics Behind the Scenes NSFW Livestream
9/22/2022: Topless Topics BtS NSFW livestream 9-22-2022: (More) interviewing the Just Naked New York Nudist Podcast
9/20/2022: Topless Topics BtS NSFW livestream 9-20-2022- interviewing the Just Naked New York Nudist Podcast
9/15/2022: Topless Topics Sub-Only Behind-The-Scenes Livestream 9-15-2022 (part 1 & 2)
9/8/2022: Topless Topics NSFW Sub-Only Behind-the-Scenes livestream 9-8-2022
9/6/2022: Topless Topics Sub-Only NSFW Livestream: 9-6-2022
!ATTENTION!
Regrettably, Vimeo, the website I have used for years to host my nonsexual nude videos (for $1000/year) decided that they want to start charging me many thousands more for the "Enterprise" package because I'm allegedly "over bandwidth" (with only 126k viewers a month, so sure, whatever…)This has necessitated me to pare back my available NSFW content greatly, and given how large the after-streaming livestreaming recordings are, they have to be the first to go.I'm in the process of removing my content from Vimeo entirely and finding my own direct host to place them on instead, but this takes time and money and I will have to hire my much-more-tech-inclined web dev friend to help me with the process, so I don't know how long this will take.(Alas none of the "free" websites like Youtube or Facebook will let me upload my videos, even highly censored versions, and I refuse to upload my videos to porn sites like pornhub because they are NOT PORN)In the meantime, the live versions of each stream will continue–every Saturday from 3 to 7pm pacific standard time–and sometimes at unscheduled times, when I have someone else available to watch my kids for a time (namely, just during their very brief nap times, or on the days my husband is off work, if he's not too tired/irritable.) Be sure to follow me on social media for an alert whenever these unplanned livestreams happen! https://www.toplesstopics.org/contactI'll experiment with uploading straight to OnlyFans as well–I have no idea what video length or bandwidth they allow, but it's worth a shot.Sorry about all this, thanks for your patience, and hey! Maybe someday I'll have enough money to hire staff for all the administrative and promotional stuff so I can focus entirely on making new content! (haha yeah right x.x)
Welcome to my livestreaming page! This is where I embed whatever livestream I have going on currently, and/or info about upcoming livestream events.
If I'm currently livestreaming, the stream will show up here:
[TWITCH]
Regular Livestream Schedule
Since Vimeo banned my long-standing Premium Channel and the sex-positive livestreaming site Plexstorm went belly-up, I've found myself once again without a female-nipple-friendly website to livestream from. That means I'm stuck streaming from Twitch (ugh) but at least it's a place to chat with me while I play video games, draw artwork, or whatever else the audience feels like doing together! (Not sex).
Currently I regularly stream every Saturday at 3-7pm PST at https://www.twitch.tv/cerigotgame and on the rare occasion that I have time and energy to do an unplanned livestream, I always announce it on social media when I do. So if you're starved for new Cleo content, make sure you follow my various social media accounts! https://www.toplesstopics.org/contact/
Regarding Unplanned/Unscheduled Livestreams during the week
As much as I would (truly!) love to livestream more often, my home life (mother of a preschooler and toddler) is so chaotic that it's really not possible for me to swing except on the rarest of occasions (and even if I could it would be during their nap-time in the middle of the day, when few people are available to watch the stream anyway…). If it's ever safe to have in-person schooling again, then at least I can drop Link off for a few hours and only have Aeden to contend with, but for now, these weekend streams are the only regular scheduled thing I can commit to (and even that is with effort!)
But who knows, maybe someday I'll finally become "internet famous" enough to afford a live-in nanny and start livestreaming whenever I want to! XD (Hey, it's important to have goals!)
Don't forget to follow me on social media for an update every time I have new content coming out! Here are the links to follow:
ATTENTION! Since WordPress switched to the Gutenberg editor, video embeds no longer display correctly. So you'll have to go here and watch me directly through Vimeo until I can learn how to code well enough to fix it!
[VIMEO]
Want to Chat with Cleo and other Topless Topics Community Members during the stream?
I try to leave the respective chat window open (Twitch for gaming streams, Vimeo for anything involving nudity or female nipples) but sometimes it gets hidden by other windows I have open. And either way, the chatroom becomes unavailable once the stream ends.
So! It's much better for you to hang out in our Discord server, which is full of friendly people at all times, and is broken up into rooms by specific interest (nudism, gaming, etc), or you can always just shoot the breeze in our general rooms too! We're all very friendly and happy to talk, we don't bite 🙂 (Although if you do come in and immediately start insulting/berating/sexualizing anyone, you will be banned, so…don't?)
It's easy and free to sign up, you can even use fake info if you want. We're just doing it this way because Discord requires you to register to use their servers, and because it helps us cut down on spambots and trolls. Hope to see you there!
Chat with Cleo & others by joining our Discord chat server: click here!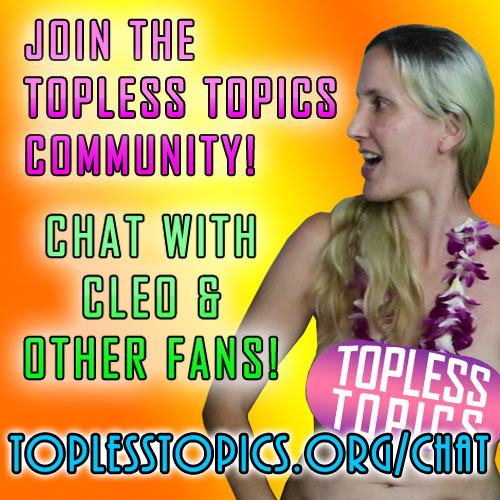 Missed the Livestream?
Recorded versions of each stream are available on the Topless Topics Vimeo account: https://vimeo.com/toplesstopics
Are you a Topless Topics supporter? Want to help me pay for things like truly topless livestreaming, better recording equipment and more? Then please check out the DONATE page for several routes you can send support, including purchasing digital prints and (someday) other products through the STORE. Thank you so much in advance!  
---
Past Livestreams
The good news is: I have recorded versions of pretty much every past livestream I've ever done sitting on my harddrive still. The bad: thanks to the constant banning of any and all of my various channels and accounts, I currently do not have any of these past livestreams available for viewing online. Given the size and length of the videos, to upload them to TROM (or the secret Vimeo account available only to patron donors, to keep the trolls out), reuploading these livestream files would require me to put uploading my actual, edited, intentionally-made video reuploads on pause, AND either 1. re-encoding the livestream recordings at absolute crap quality, or 2. break them into tiny five minute chunks, to stay within daily size upload limits (for TROM it's 5gb a day, Vimeo is 5gb a WEEK). Since both those options sound shitty, I'm not prioritizing reuploading old livestreams, until a free non-female-nipple-hating alternative comes along, or I'm finally able to set up my own individual video hosting, with ample size and bandwidth. Sorry! Blame the patriarchy!