!ATTENTION!
Regrettably, Vimeo, the website I have used for years to host my nonsexual nude videos (for $1000/year) decided that they want to start charging me many thousands more for the "Enterprise" package because I'm allegedly "over bandwidth" (with only 126k viewers a month, so sure, whatever…)
This has necessitated me to pare back my available NSFW content greatly, and given how large the after-streaming livestreaming recordings are, they have to be the first to go.
I'm in the process of removing my content from Vimeo entirely and finding my own direct host to place them on instead, but this takes time and money and I will have to hire my much-more-tech-inclined web dev friend to help me with the process, so I don't know how long this will take.
(Alas none of the "free" websites like Youtube or Facebook will let me upload my videos, even highly censored versions, and I refuse to upload my videos to porn sites like pornhub because they are NOT PORN)
In the meantime, the live versions of each stream will continue–every Saturday from 3 to 7pm pacific standard time–and sometimes at unscheduled times, when I have someone else available to watch my kids for a time (namely, just during their very brief nap times, or on the days my husband is off work, if he's not too tired/irritable.) Be sure to follow me on social media for an alert whenever these unplanned livestreams happen! https://www.toplesstopics.org/contact
I'll experiment with uploading straight to OnlyFans as well–I have no idea what video length or bandwidth they allow, but it's worth a shot.
Sorry about all this, thanks for your patience, and hey! Maybe someday I'll have enough money to hire staff for all the administrative and promotional stuff so I can focus entirely on making new content! (haha yeah right x.x)
If I'm currently streaming, the stream will show here: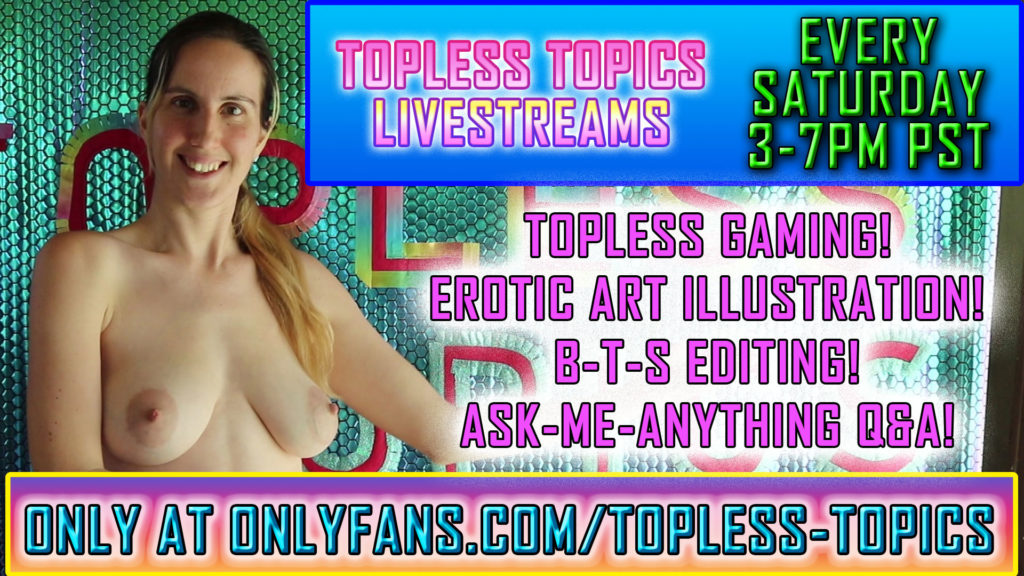 Welcome to the Topless Topics Donor-Only Livestream, every Saturday from 3 to 7pm Pacific Standard Time! Here we'll play topless video games, draw erotic illustrations, behind-the-scenes editing of artistic nude photoshoots and videos, hold Ask Me Anything sessions, interview other Creators, and more!
At the start of every livestream, I'll send the super-secret unlisted livestream URL out to all my OnlyFans and/or Patreon donors so you can watch and interact live!
If you miss the stream, you can watch the recorded versions linked below!
(Sometimes Vimeo messes up and I have to restart the livestream, hence the entries that include separate parts)
---
Links to Past Donor-Only Livestreams
(Vimeo messes up and forces me to restart the livestream sometimes, which is why there are multiple links under most days)
August 22, 2020 –
August 29, 2020 –
September 5, 2020 –
September 12, 2020 –
September 19, 2020 –
September 26, 2020 –
October 4, 2020 –
October 10, 2020 –
October 17, 2020