Promo Squad Use Images
(read about how to help Topless Topics grow here! https://www.toplesstopics.org/promosquad/ )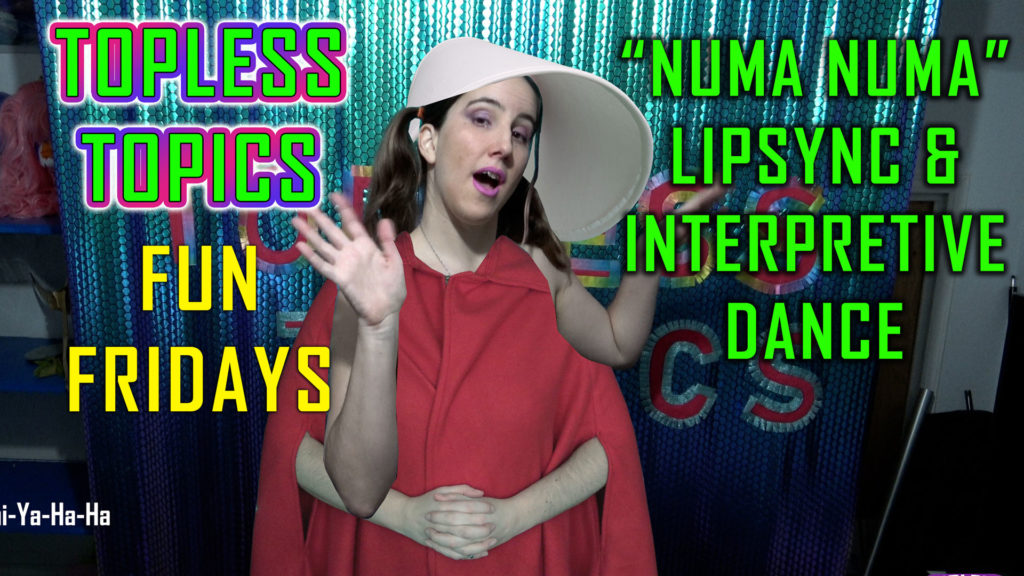 On a whim, I thought it might be "fun" to record an hour of me performing my near-daily job of going through all the likes and retweets of my content on Twitter (can't do anything about it on Facebook, Youtube, etc) and purging out all the pornbot accounts–that is, accounts that retweet and "like" actual porn, or nothing but naked (white) women, one after another (occasional naked women posts are fine, as long as there are other posts that AREN'T just naked women…and actual sex workers who post their own original content are fine also).
I also get a ton of self-labeled "nudist/naturist" accounts, some who put "no porn" right in their bios, yet their "likes" include explicit porn, as well as an endless cascade of naked women–which only a naive fool would believe they're repeatedly looking for to "appreciate the artistic merit" of them.
Everyone has different standards for who they decide to block or not–such as Hector Martinez, the founder of the Mexican Nudist Federation, who says he prefers not to block porn accounts "in case they learn something." As a cis woman who has been sexually harassed and objectified since childhood, I choose to be a lot harsher about banning any accounts that I'm suspicious aren't following me out of genuine support for my topless equality mission. I'd rather have a much smaller amount of legitimate followers than a legion of pornbots just following me to jack off 🤷
If on the rare chance you end up one of my blocked accounts and you want to plead your case on why you think I SHOULDN'T block you, you can use the forms of contact listed at www.toplesstopics.org/contact to let me know. But be aware that if you're constantly retweeting explicit porn, I'm extremely unlikely to unban you. If you want to show legitimate support, make a separate account that DOESN'T post porn, then I'll let you follow me 😏
Here is the uncensored TROM version–warning you WILL see porn if you watch this version, though I did my best to scroll past any time I realized what had popped onto my screen:
Or if you'd rather hear my commentary without having to see the same shit I did, you can watch the super-censored Youtube version:
(at least until Youtube still bans it as "sexually explicit," thanks to false flagging by haters)
---
Of course, I -could- try to force myself to just ignore the pornbots–but it's straight up soul crushingly depressing to have it thrown in my face that it doesn't matter one iota what I do or say to the extreme majority of internet denizens (almost entirely male) as long as I have a pixel of female nipple visible–that's all it takes to drive the pornbots wild, belittling and objectifying me by treating me the same as a blow up doll, regardless of context or consent.
Hopefully someday I'll find a way to fund the creation of my own social media platform *cough#outcastcreatorcollective* and inspire my followers to post to the mainstream platforms on my behalf, so I can focus all my energies on places that AREN'T extremely toxic. If you'd like to help me fund that someday-maybe goal, you can become a Patreon donor, a JoystickTV subscriber, or make one-time donations through my Donations page!
Otherwise, you can also be a huge help (and do some interference moderation between me and the pornbots) if you promote and share my content with friends and family by making original posts linking to my stuff! You can find a helpful, easy-to-follow guide on how to do this at www.toplesstopics.org/howtohelp 😀