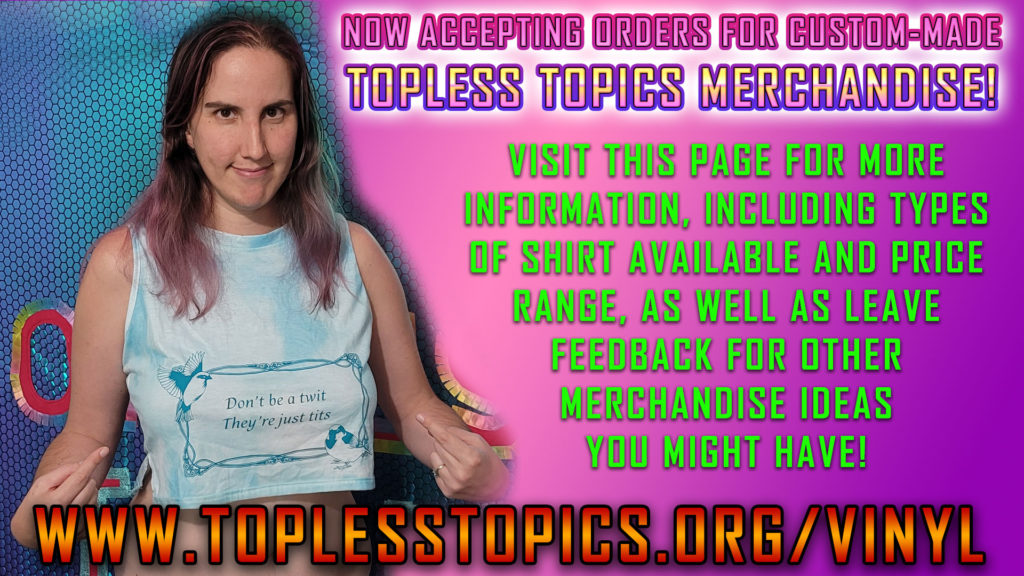 ---
While my quest to find an affordable, trustworthy small-run T-shirt printer continues, I've started experimenting with my friend's cricut machine and vinyl press to custom-make our own Topless Topics merchandise, one product at a time.
The great thing about making each shirt custom is that I can provide a lot of options for shirt type, color, vinyl type, color, sizing, etc for each product made. The hard part is that it's tedious, takes time, and I have to find and pay for all my own materials.
For now, I'm going to experiment with pricing to see if I can find a happy medium between "doesn't cost an arm and a leg" and "at least covers the costs of materials, labor and shipping." Unfortunately it gets even more complicated when trying to arrange shipping outside of the United States, so for now I'm limiting sales to within US borders only.
If you're interested in ordering a shirt, please fill out the form below so we can get a dialog going to nail down your specifics. Please understand that these orders are first-come-first-serve, and given that I'm also the sole creator, editor, promoter, etc behind ALL of Topless Topics, I don't have a lot of spare time to also make and send out shirts. Hopefully if you're interested in buying a shirt, it's because you support the Topless Topics mission and want to help me spread the word to others about topless equality, not just because you want a cute shirt ;p
Got an idea for a different motto or phrase to be made into a T-shirt? Let me know!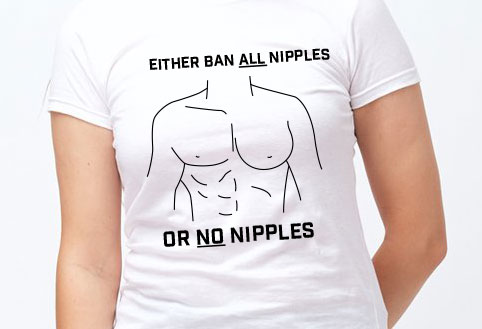 ---