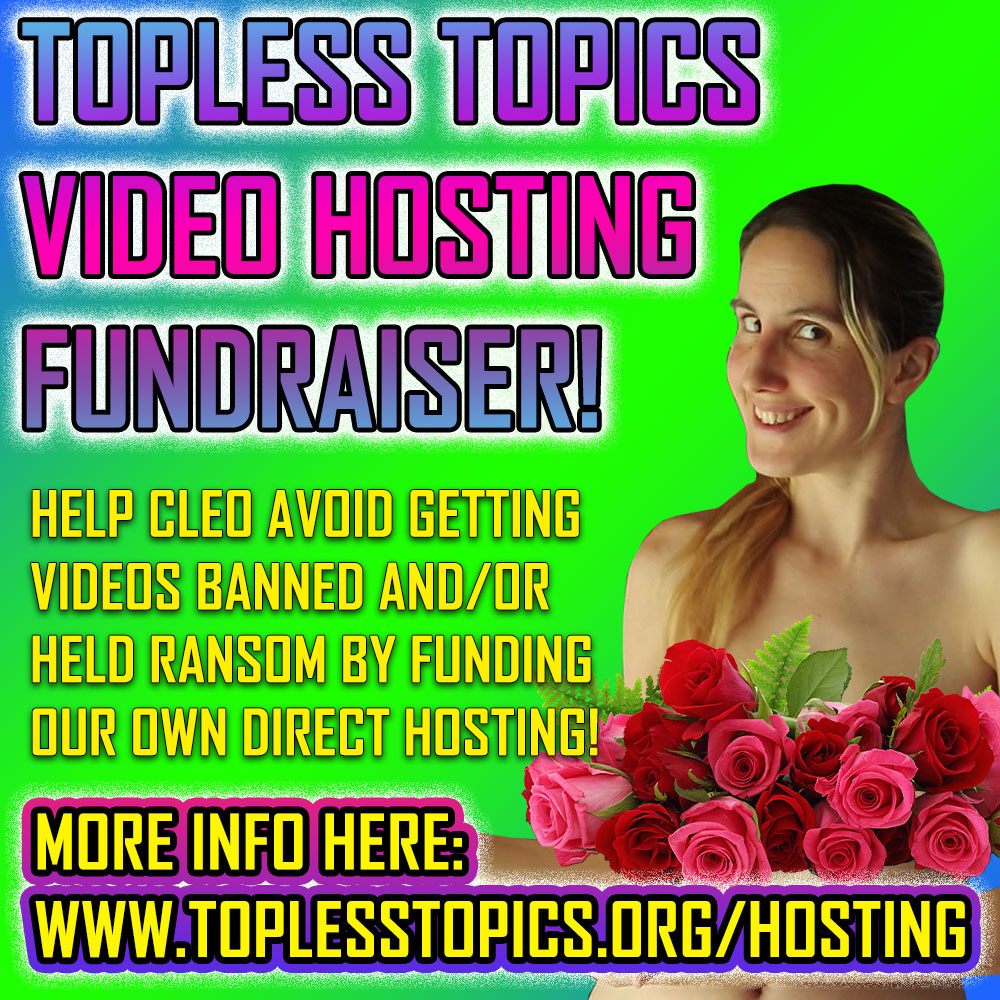 Welcome! So, following my years-long battle against both the "free" platforms (like Youtube and Facebook) that are fine with nazis and conspiracy theorists but shudder at the thought of a nonsexual female nipple, and the single video hosting service I've ever found that allows female nipples but not porn–Vimeo–which unfortunately has revealed itself to be a blackmail scheme, ransoming your videos for ever higher amounts (more info on that delightful saga here: www.toplesstopics.org/fuckvimeo ) –
I've reached the point where I think this is my only and best way forward (if I don't throw in the towel and just upload my nonsexual female nipples to places like Pornhub directly since explicit porn sites are the only platforms that allow nonsexual female nipples as readily as Facebook, Youtube, Instagram, etc allow any and all male nipples)
From now on, until I have the funding to purchase my own direct hosting through AWS or something similar, new videos will be made available by the following methods:
So how much do we need to fundraise to get direct hosting?
Unfortunately, I'm not sure of the exact amount yet, though it looks like it should be cheaper than the $1000/year I'm already paying Vimeo, only for them to hold my videos ransom for even more money (again, read that bullshit in detail here: www.toplesstopics.org/fuckvimeo )
I already have other Topless Topics-incurred debts (like building my "recording studio" shed so that I can record and livestream videos without my kids screaming in the background) that I've been putting current funding into paying off. If I can manage to gather more than the minimum monthly payment, at least, then those funds will be set aside to prioritize purchasing direct video hosting, and paying my professional web developer friend to help me get it all set up.
Once I have more solid figures of the fundraising that will be required, I will be sure to lay them out here. Until then, please try to believe that I'm not just pocketing any funding into personal purchases–it all goes into Topless Topics, without even a minimum wage for the actual hours and hours of work it takes for me to create and maintain new content.
Methods of Fundraising
There are, as always, the usual methods available as I have listed on the www.toplesstopics.org/donate page:
Monthly Donations with Reward Tiers through Patreon

More information about Patreon reward tiers in the next section below! (Or click here)

Pay-Per-Post purchases to videos and artistic nude photography through OnlyFans (free to sign up, pay only for the content you want to see)

Please note however that OnlyFans takes a huge (20%) cut, so if your main motivation is helping to fund Topless Topics, then please use one of the other methods on this page!

One-Time Donations through Paypal

(Click the graphic above!)

Donate through KoFi! https://ko-fi.com/toplesstopics
Donate directly through you phone using the $CashApp: Try Cash App using my code and we'll each get $5! https://cash.me/app/MNRBCFH

(If you are already a CashApp user, simply search for $ToplessTopics within the app!)

Purchase digital prints and other merch thru Etsy

More donations means I can offer more variety of merchandise!
All that's special about this fundraising is that it's the required step for me to make any of my uncensored videos available again, due to the aforementioned inability to post them to any "free" sites and the extortion of Vimeo over alleged extreme bandwidth usage that I have no way to disprove or fight against, since they don't provide any such analytics from my end.
Of course, I would really, really prefer if I could do all this without any cost at all–if I was allowed to monetize (place ads over, like all the famous youtubers do) my content, or get brand deals with companies other than sex toys and lube. But those options are not available to me, and I don't have time, energy or babysitting to come up with physical goods either that would actually raise money for Topless Topics (print-on-demand services charge very steep prices for their products so all the money would go into that and shipping and handling)
Here are some videos where I describe a little more of what is happening and what I hope to accomplish!