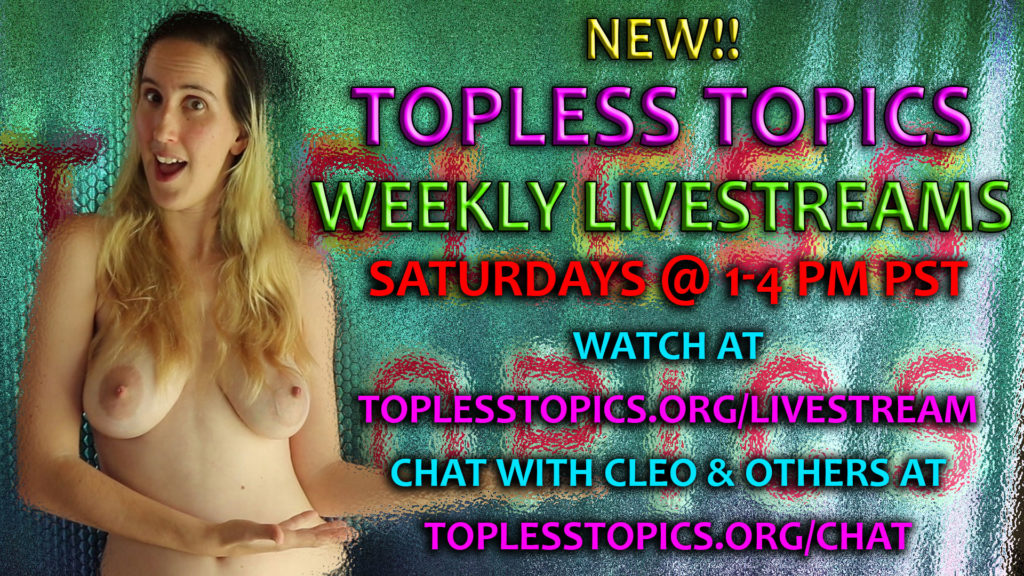 #happynewyear! I decided to start 2020 off with a resolution I've been contemplating for a while now–establishing a weekly #livestream so we can hang out, chat, create and have fun together. You can watch those livestreams where I always have them:
www.toplesstopics.org/livestream
Saturdays 1-4 PM Pacific Standard Time
Of course as always, there will be days I have to cancel or reschedule thanks to real life situations taking precedence, but I'll do my best to give you guys notice, and I'll update the top of the page whenever I know in advance I'll need to reschedule or not.
And if you miss a livestream, you can always watch the recorded version afterward! Completely nudity-free streams will be at twitch.tv/toplesstopics (so like, video game livestreams and art prompts not involving nudity), whereas anything with a hint of female nipple showing will be streamed using Vimeo and hosted afterwards at https://vimeo.com/toplesstopics
During each livestream, I will have the respective Vimeo or Twitch chatroom enabled, but I strongly recommend hanging out with us on the #toplesstopics Discord server instead! You can sign up free and easy at www.toplesstopics.org/chat and hang out with us any time, regardless of whether there's a livestream currently happening!
Anyhow, we'll see how this goes, I have lots of activities in mind for these livestreams, and I'll take recommendations/requests under advisement (still no sexually explicit or softcore porn, ever) so just stop by and let me know in the chat that you're watching, and what you think would be fun!
I'll put more ideas on the livestream page, but here are a few activities off the top of my head-
video game let's plays, including horror and multiplayer games (internet bandwidth notwithstanding)
arts and crafts, digital drawing requests, etc.
video editing
Q & A
watch and react to movies/TV shows/etc together (both of us stream it at the same time and share our reactions live)
& more! You can suggest activities by @ing me on Social Media (links below), or stop by the chatroom during a livestream and suggest it there! (Again, nothing sexual ever, so please don't bother asking)
Hope to see you there!