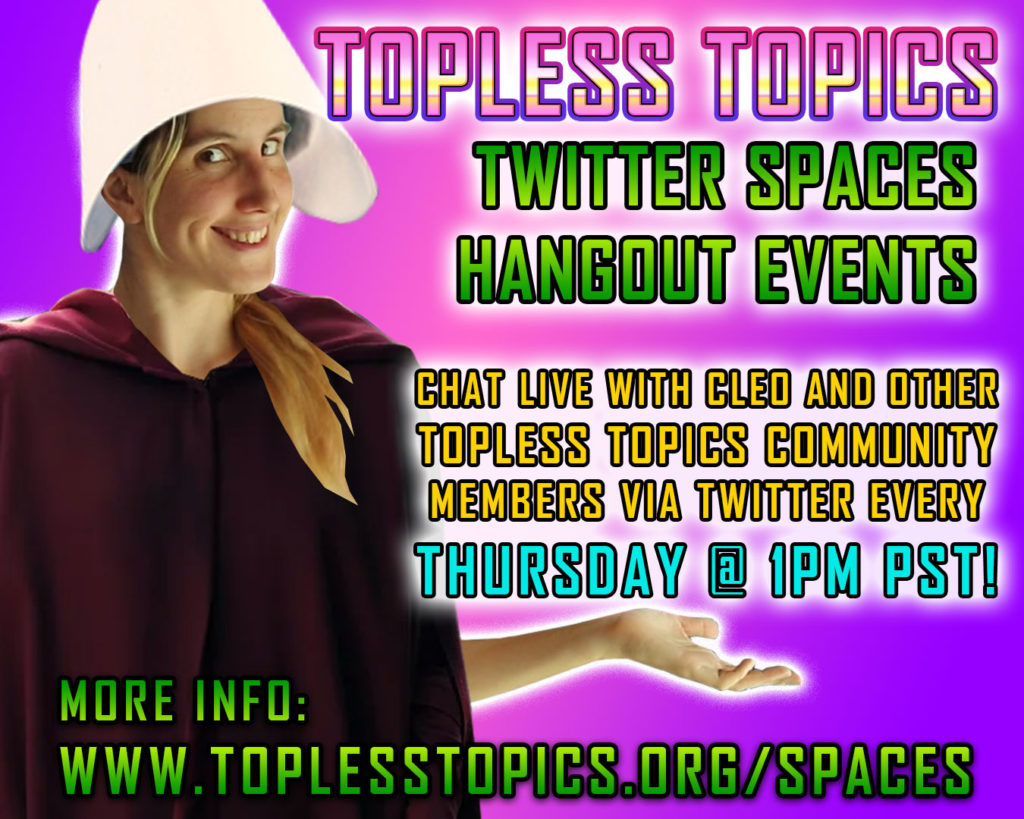 After testing out Twitter Spaces for the first time the other day (Jan 30, 2022) I decided that it was worth experimenting with, so I'm going to try having similar events in the future:
Twitter Spaces events every

Thursday, at 1pm PST

To participate, visit the @toplesstopics Twitter profile page just before or during the event and look for the "join Twitter Spaces event" link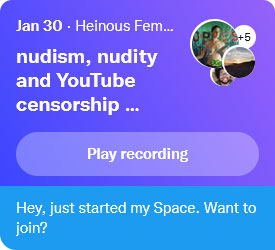 If you're not familiar with Twitter Spaces, it's a new feature that Twitter rolled out some months back that creates an audio-only podcast-like environment where the host can talk about whatever they wish, and attendees logged into Twitter accounts can request to be added to the conversation. Read more here: https://help.twitter.com/en/using-twitter/spaces
You don't need a Twitter account to listen, but you do to request to join in the audio. Please note that to reduce interference by trolls, moderators will review the profile of any join requests, and users I'm not familiar with from previous interactions are unlikely to be granted speaking access.
On Mondays, I will be posting a poll asking the community what topics we should discuss that Thursday, then during the Thursday Spaces event, I will bring up the topic and we can go from there.
Some days I won't be able to make it (like when Aeden refuses to take his nap) but I'll do the best I can.
Unfortunately Twitter has not included a text chat option with Twitter Spaces, but you can still tweet at me or post in our Discord chatroom during the event and I will take a look when I have the chance. Hopefully Twitter changes this in the future, as I would prefer to have more avenues for discussion with listeners while the event is going on, such as suggesting new topics to discuss.
If you have any questions about these Twitter Spaces events, please contact me: www.toplesstopics.org/contact
Future Topic Suggestions:
Nudity vs Sex
Censorship
Alternates to Mainstream Media
Feminism
LGBTQ+
Sex and Romance
Pop Media
Body Image/Positivity
Ableism/Disabled Activism
Also, if you have a question or comment you would like to submit for discussion, you can do so through one of the forms of contact listed at:
Recordings of past Twitter Spaces events:
Promo Squad Use Images
(read about how to help Topless Topics grow here! https://www.toplesstopics.org/promosquad/ )