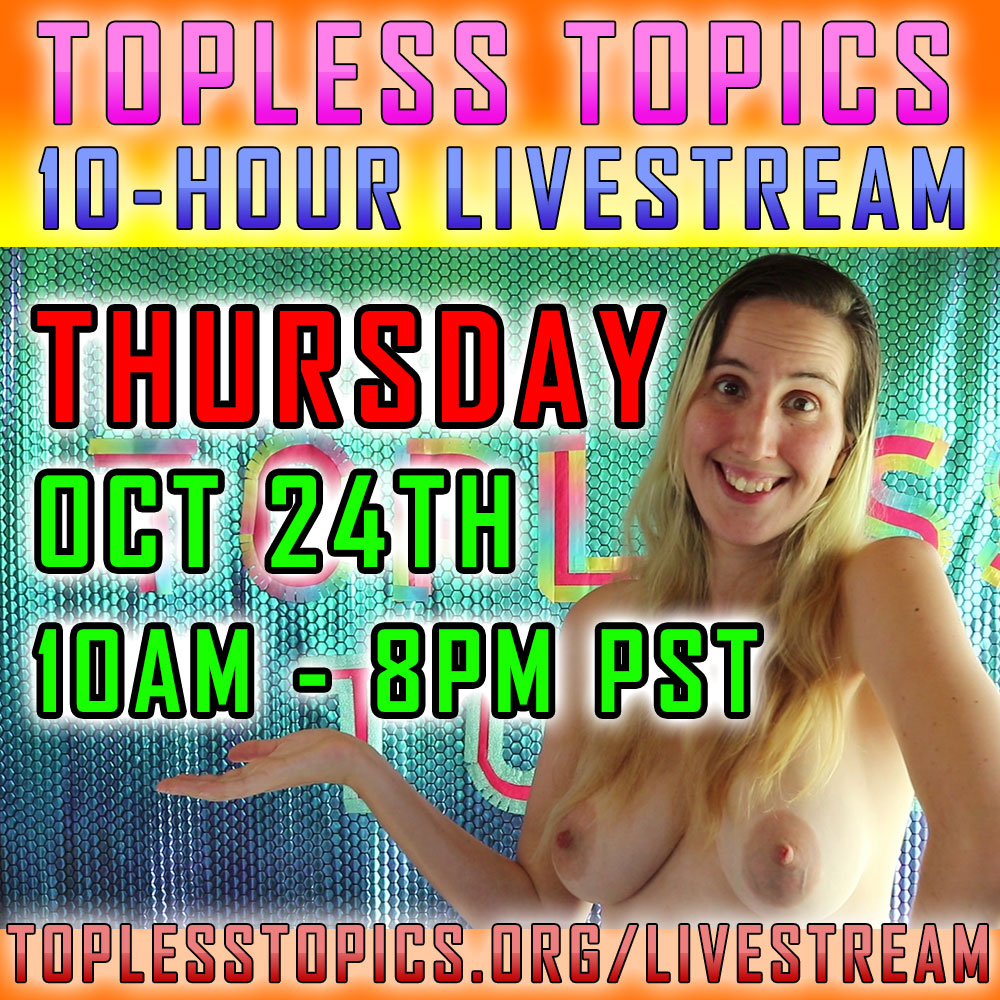 On Thursday, Oct 24th, from 10 am to 8 pm PST I will be livestreaming with a focus on fundraising materials and hair dye for the Winter Fae photoshoot I want to do, as well as financing my trip to Vidcon 2020 in Anaheim in June next year!
More info and the stream will be available on the livestream page: https://www.toplesstopics.org/livestream/
Thursday, Oct 24th from 10am to 8pm Pacific Standard Time
Watch here, chat in either the Vimeo room or (preferred) our Discord chat server
Livestream Prizes/Donation Rewards:

$5 for a shoutout/quote/line of your desire (blatant sexual or profane statements will not be read)
$10 for a costume change (the livestream will be topless as all my Vimeo livestreams are, but I'll have some silly hats, cat ears, other props etc. on hand for a fun incentive
$25 live art request–I'll draw the requested picture right there on the stream! Another $25 and I'll color it! HD version of the finished image will be emailed to you at the end of the stream.
$50 for 30 minutes of the video game let's play of your choice, including horror games (even though I scare easily so I don't really enjoy playing them). I have quite a few horror games in my steam library already, or you can buy me a gift copy if I don't have it yet and I'll download and play it during the stream.
$100 and I'll take a shot of alcohol or a hit of my vape. I'm setting the limit high so you all don't make me die of alcohol poisoning :p
Due to the temporal nature of when and if my parents have the strength to babysit my young kids, my livestreams are generally impromptu/unplanned (though I do always announce the streams right before they happen on social media and in the Discord chatroom whenever I'm about to start). However, occasionally I try to put together planned livestreams a few weeks in advance, so that the most members of the Topless Topics Community have a chance to catch it if they can.
The next planned livestream is a doozy–a whopping ten hour livestream, during which we'll be attempting to fundraise for several goals (more info on the Donation Page) but the biggest immediate goal is $400 for materials and prep for the "Winter Fae" costume I hope to wear to the Portland Erotic Ball on Oct 26th and/or to stage another photoshoot with David of Beloved Zeal, for a new set of artistic nude photography to sell in our Etsy store (to pay for goals like the ones listed on the donation page, again). Assuming we're able to raise that (fingers crossed!) any additional money will be set aside to fund my trip to Vidcon 2020 in Anaheim in June, where I will meet and greet with Topless Topics Community members who are also in attendance, as well as network with other content creators there, try to work together on some collaborative projects, and spread the good word of topless equality! It's going to be quite pricey to get me there, so I'm very hopeful I'll be able to raise enough money to not have to ride a Greyhound bus for 30 hours then sleep in someone's car while I'm there ;p