Presenting Topless Topics Gift Card Giveaways!
Beginning February 1, 2022, every month you can have AS MANY ENTRIES AS YOU WANT to win one of four (4) $25 digital gift cards to one of many store or website choices!
All you have to do is like, share, reply, or record a video response to Topless Topics social media posts, and amass points that will each count as a chance to win a gift card!
If you have any questions about the giveaway, please use one of the forms of contact on the contact page to ask for more information! www.toplesstopics.org/contact
Points are allotted as thus:
[1 point] for "liking" a social media post on Twitter, Facebook or Instagram
[3 points] for replying/leaving a comment on a social media post
[5 points] for sharing/retweeting an existing post
[10 points] for creating an ORIGINAL POST linking to Topless Topics content, as described (with pictures) here! www.toplesstopics.org/howtohelp
[10 points] for referencing and tagging the @ToplessTopics instagram as seen here:
[25 points] That's right, TWENTY-FIVE POINTS for a publicly-viewable reply video (at least two minutes in length) to Topless Topics content (if not responding to a specific post, simply posting a shout-out directing people to Topless Topics content is sufficient!)
To make sure I see your entry, you can either DM a screenshot of your reply/retweet/etc to me on Twitter or Discord, and/or fill out the form at the bottom of this page.
Please note that you can KEEP GAINING ENTRIES ALL MONTH LONG!!
As long as the reply/retweet/etc is posted within that month, all your entries will be tabulated after midnight on the last day of the month.
So you could, for instance, post 5 retweets, 2 original posts, and 1 reply video somewhere between Feb 1 and midnight PST on Feb 28th (not all on the same day) and that would present you with SEVENTY (70) CHANCES TO WIN A GIFT CARD!!
Stores/ecommerce sites you can decide to win a gift card for:
(don't see the store you like? Suggest one!)
Amazon
Target
Gamestop
Best Buy
Nintendo/Xbox/Playstation
Googe Play
iTunes/Apple
Fandango movie tickets
Department Stores (Macys, Kohl's, etc)
Disclaimer
At the time of picking the winning entries, posts submitted for consideration will be checked to ensure they weren't un-retweeted/deleted. If the entrant is found to have removed their entry, they will have all their entries for that month disqualified. If they repeat the violation a second time, they will be banned from all future participation in giveaways. Sorry, this is to prevent people from "participating" in the giveaway, only to dishonestly remove their posts once their entry has been approved!
Also note that reply videos must be at least two minutes in length, and must be publicly available, aka not friends-only on Facebook or unlisted on Youtube.
How to Claim Your Entry Points
You can make sure your social media engagement is counted towards the contest in either of two ways:
Scroll beneath the form to see an example of how to properly fill it out!
---
Example of a filled-out submission entry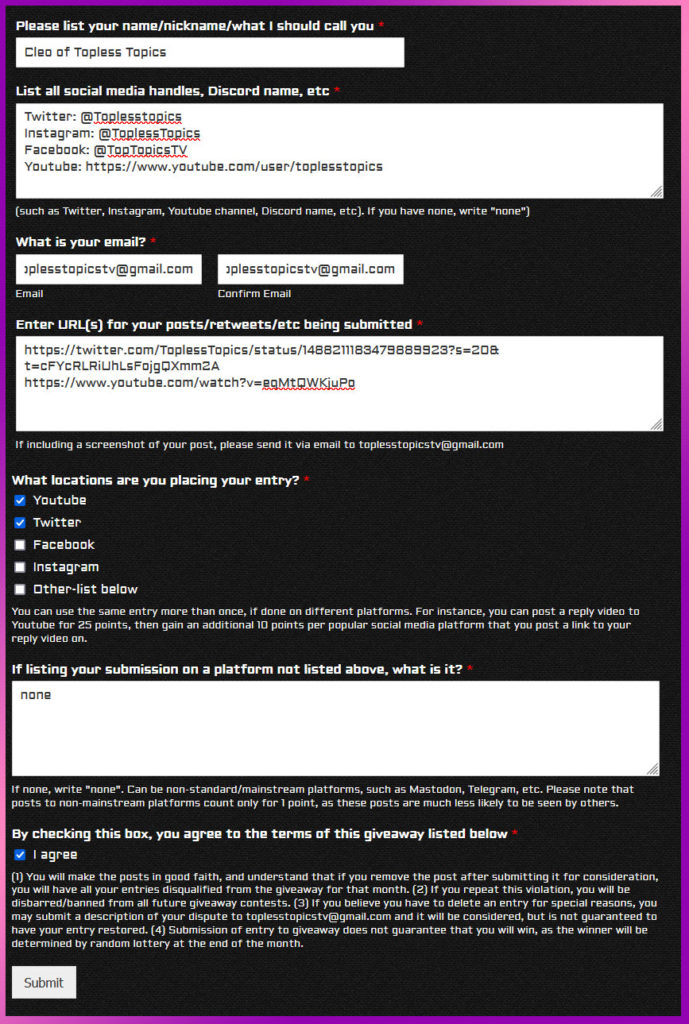 Examples of Qualifying Social Media Posts
Again, you can find a lot more information about how to make social media posts that really help Topless Topics out here: https://www.toplesstopics.org/howtohelp/
Below are just a few examples of the types of social media posts you can do, and how many points/entries each one is worth!
[10 Points] Original Instagram Post
[25 Points] Example Original Video Post