Promo Squad Use Images
(read about how to help Topless Topics grow here! https://www.toplesstopics.org/promosquad/ )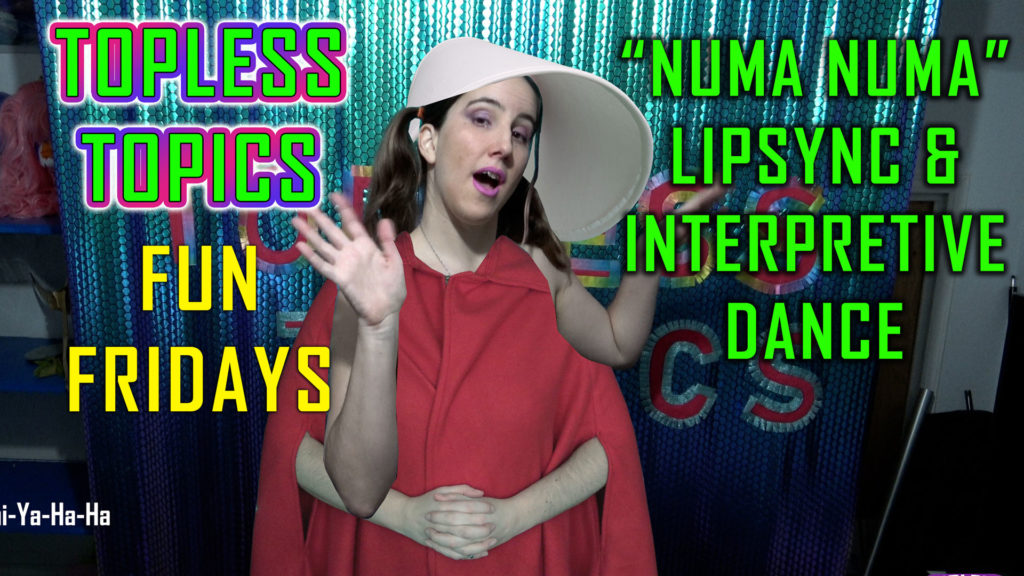 ---
Joystick.tv Tip Menu (as of September 2022)
Ask on social media or in our chat room to make sure this menu is still current!
10 tokens/$1: Cleo adopts a silly accent of your choice for ten minutes
50 tokens/$5: Cleo answers a non-sexual "ask me (almost) anything" question
50 tokes/$5: Cleo puts on a wig of your choice for ten minutes
100 tokens/$10: Cleo stops whatever she's doing to sing a song of your choice (preferably something from my known-songs karaoke list, or you can suggest several songs and I'll pick one I'm more familiar with)
150 tokens/$15: Cleo answers (but does not act out!) a sexual "ask me (almost) anything" question
200 tokens/$20: Cleo draws a black & white non-erotic illustration request (ask availability first)
400 tokens/$40: Cleo draws a black & white erotic illustration request (ask availability first)
500 tokens/$50: Cleo draws a flat/unshaded non-erotic illustration request (ask availability first)
700 tokens/$70: Cleo draws a flat/unshaded erotic illustration request (ask availability first)
800 tokens/$80: Cleo draws a full color non-erotic illustration request (ask availability first)
1000 tokens/$100: Cleo draws a full color erotic illustration request (ask availability first)
Wig choices for the "wear a silly wig" tip:
---
What is a "sub-only behind-the-scenes livestream?"
Presenting as of September 2022, I'm starting to do several-times-a-week behind-the-scenes livestreams, where you can join me while I edit videos, draw or paint art illustrations, sew cosplay outfits, do dance work-outs, fold laundry, and so much more! During these streams, we'll chat, sing, philosophize, geek out, and whatever other direction the conversation takes.
As an experiment in fundraising, I'm making these streams subscriber-only, simply because I have no other way to raise any money to pay for the many costs of creating and maintaining patriarchy-unfriendly online content–for years, my entire Youtube channel has been banned from monetization (ads), sponsors won't return my emails, and even trying to sell my own photography or host ads on my audio-only podcast quickly ended up in a ban for "having female nipples anywhere on the entire internet" (read about that BS saga at www.toplesstopics.org/fkstripe )
So while my Saturday livestreams on Twitch will remain free (every Saturday at 3-7pm PST at www.twitch.tv/cerigotgame ), the behind-the-scenes livestreams will be subscriber-only and, yes, they'll contain nonsexual female nipples in them, thus streaming on Twitch isn't an option for me anyway (but graphic violence and beheadings are fine on Twitch, don'tchaknow)
If you'd like to take part in my subscriber-only behind-the-scenes livestreams, you can do so in two ways:
Method one- become a subscriber on my (new) JoystickTV account
If you've been following Topless Topics for a while, you may know that once upon a time, there was a sex-friendly game streaming site called Plexstorm, that I started streaming to a couple times a week. Unfortunately thanks to unwise investments, Plexstorm went under in mid-2021. However, from the ashes of some of the spurned creators on Plexstorm, a new sex-friendly gaming site arose–JoystickTV! Unlike my experiences with Plexstorm, the devs at JoystickTV have been very responsive (especially on their Discord server), and they really do seem interested in avoiding the pitfalls that befell Plexstorm, and to provide a reliable and user-friendly platform for both streamers and their audiences.
Yes, it's not ideal that I have to use a streaming platform that allows full-on sex just to have my heinous female nipples visible, but alas that's the society we live in for now–female nipples are considered "nude" and therefore "sexually explicit" while male nipples are not, therefore they're only allowed to exist on platforms where everything that actually is "sexually explicit" is also allowed. That's kinda the entire thing Topless Topics is fighting against!
So until we can find a streaming platform that allows female nipples but does NOT allow porn, this is the best we can do.
Method two- become a donor on the Topless Topics Patreon
While I've had my Topless Topics patreon account for years, it's always been a struggle to come up with "subscriber only perks" to offer to donors, considering my extremely limited time, and the rules Patreon has about "custom content" (no 1v1 video chats, for instance).
Thus, I had the idea that one of the perks for donors could be access to new behind-the-scenes livestreams –a little extra insight to the work that goes behind Topless Topics, while the finished videos themselves will be available for free, as long as TROM remains a viable website to host them.
I'm still testing out video embeds on Patreon, which unfortunately remains a cumbersome and badly-optimized website even all these years later, so there'll be some growing pains while I figure this out. Rest assured that I intend to also make VODs (the recorded versions of streams) available, so you can still watch the streams even after they've concluded.
JoystickTV is still undergoing a lot of changes as they improve their platform, and one of the funding goals for Topless Topics is to eventually establish our own video hosting, so we're no longer living in fear of having a website go under and/or suddenly decide to reverse course and join all the other mainstream platforms in banning female nipples as "porn."
Finally, if you are unable to financially support Topless Topics by joining behind-the-scenes livestreams as a subscriber, there's one option available-
Watch Topless Topics uncensored livestreams for free by joining our Promo Squad!
If you want to be a super-star supporter for Topless Topics and/or you can't afford to become a subscriber, you can always help spread the word about Topless Topics to others through our Promo Squad initiative!
You can visit toplesstopics.org/promosquad for more detailed info, but the premise is pretty simple-
Retweet, reply, create original posts, or even reply videos that link to Topless Topics content
Earn points for each post–more labor-intensive posts like original posts and reply videos earn you way more points than likes and retweets
Once you earn at least 25 points via social media sharing, you'll have free access to all the Promo Squad perks for the rest of the month!
As I've lamented many times in the past, due to the nonstop banning and shadowbanning of Topless Topics content on every platform you've heard of and some you haven't, I'm dependent on supporters like you to let others know about Topless Topics' existence, so we have a larger audience to educate about topless equality, as well as normalizing nonsexual nudity as a whole, plus all the other important issues we talk about in my videos!
And the best way to promote my content is through original posts, rather than shares/retweets of my own posts–because my own posts still get shadowbanned, and when they're banned outright, the entire post will disappear, including your share/retweet. Thus original posts are far more vital to raising awareness about our cause.
You can read a detailed guide on how to create original posts to the social media platform of your choice by going here! www.toplesstopics.org/howtohelp
---
That's all the info about behind-the-scenes livestreams I have to share for now – I'm still waiting for my 6yo to return to school so I'll have more opportunity to stream uninterrupted, and we'll test out how many times a week I can stream without completely burning out. I'm aiming to stream Tuesdays and Thursdays 11-3pm PST, but we'll have to test things out first. As always, please follow me on social media so you can be alerted if I start any unplanned livestreams, or if I have to cancel a stream for that day! www.toplesstopics.org/contact
Bye for now, and I hope to see you in future behind-the-scenes livestreams! (As well as the free, for-fun ones on Saturdays ;p)