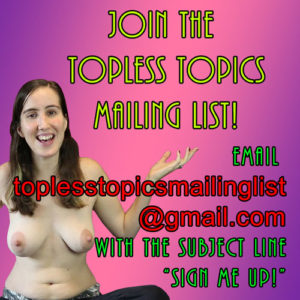 I decided I'm going to post outgoing Topless Topics Mailing List Editions here on the site as well, so that those of you who sign up in the future can always go to these posts to read up on past editions. If you are not yet a member of the mailing list and you want to sign up, please just send an email to toplesstopicsmailinglist@gmail.com with the subject line "Sign Me Up!" and I'll add you as soon as I can! Or if you want to be removed from the list, please just send me an email with the subject "Remove Me Please" and I'll take you off right away. Thanks, guys!
Topless Topics Mailing List Edition #1 (Woohoo!)
Originally sent out 7-15-2018
Hello, supporters of Topless Topics! Wow, it's been a whirlwind few months. Lots of new updates I have to impart on you, hopefully I don't forget anything important! (I'm also writing this email in sweltering heat and running on very little sleep, so please accept my advance apologies if any of this is confusing or I leave something out x.x Feel free to email your questions to toplesstopicstv@gmail.com and I shall try to un-obfuscate!)
NEWEST VIDEOS:
"Rooster Rock Nude Beach Recap"
"REPOST: First Time at Nude Beach Sauvie's Island!"
"Topless Topics: Daddy Gets His Balls Snipped! (Vasectomy Vlog)"
"REPOST: #Freethenipple parenting vlog: the harrowing tale of how I gave birth to Link!"
"giving birth to newborn #2, handling childhood diseases, and everything else going wrong all at once"
First up, in case you missed the update, I decided it was hurting me more than it hurts The Patriarchy if I quit making new #freethenipple videos altogether, so I've gone back to making videos, but with some new caveats. You can hear all about them in this video: 
https://www.toplesstopics.org/topless-topics-returns-things-will-different/
Secondly, I remain determined as ever to make Topless Topics into a thriving community of like-minded topless equality activists, and to facilitate that, I want us to have a website that is user-friendly and community-oriented, with all sorts of tools to help us connect to each other, as well as facilitate my ability to record more interesting, more professional Topless Topics videos (like maybe hiring someone to hold the camera for me so I can cover more local events and conventions, as well as entice more interesting interviewees). In an effort to make that a reality, I'm trying to save up enough funds that I can hire a trustworthy and competent web coder with a fast turnaround time to help me vastly improve the website beyond my own meager coding skills. (While I have had many kind offers from Topless Topics supporters to help me design the website pro bono or on the cheap, as a fellow creative I can't in good conscience accept such offers! I would prefer to hire a professional so I don't feel like I'm asking too much if I present a list of specifics I want to add to the website!)
So in addition to reworking the reward tiers here on Patreon (more on that in a second), I have also been adding more digital print options to the Topless Topics Etsy Store: 
https://www.etsy.com/shop/ToplessTopics
 ! For now, the only options are digital prints, as it costs a lot of money and time and effort to print and send out physical prints. However, if I can eventually gather enough funding to start hiring helpers (because I'm already busy AF just making the videos, updating all the social media accounts, and of course taking care of my toddler and newborn), then there are many other options I hope to add to the store later on, such as physical prints, branded merchandise (T-shirts, mugs, maybe sports bras? We'll have to see what our options are when we have the funding for them!), maybe even some of my original artwork, if there's a desire for it. (That would be a great excuse for me to get back into painting, for one thing XD) But the TL;DR is I have new prints (as well as the old ones) available at 
https://www.etsy.com/shop/ToplessTopics
 and will be adding more as I'm able to arrange photoshoots, which is another thing that the funds go towards (it's cyclical like that…) So please check out the store and maybe help us out by purchasing a digital print or three!
After taking a break and removing all but the $1 "just here to support" reward tier when I went on my "perhaps permanent hiatus from making new videos," I'm trying out some new rewards that will hopefully incentivize donations, WITHOUT empowering the rude perverts who keep treating me like a pornographic cam girl, no matter how explicitly I declare that is NOT what Topless Topics is about and I will NOT be adding fetish material to your spank bank, no matter how much you donate or how often you ask (and doing so will just get you banned, so why bother?) You can see notes about and sign up for the new Patreon rewards by visiting this page: 
https://www.patreon.com/ToplessTopics
I'll probably be reworking the reward tiers again as I'm able to provide bigger and better prizes and/or perverts find a new way to torment me, but for now, here are the new reward tiers based on how much you donate. Formerly, Patreon wouldn't charge new accounts until the end of the month, meaning I couldn't start sending out rewards until the month AFTER you initially signed up. However I found out recently that Patreon has a "pay when you sign up" option so I switched to that instead, so new patreon donors can receive the rewards immediately! Some of those rewards require interaction so I know which options to send you however, so if you sign up/have already signed up, please send me a message on Patreon or email 
ToplessTopicsTV@gmail.com
 so I can provide the right rewards! (Like choosing which print/prints you want from 
https://www.etsy.com/shop/ToplessTopics
 and/or telling me what your Snapchat name is so I can add you, if those are the reward tiers you signed up for!)
With no further ado, here are the new reward tiers that we're going to experiment with for now:
$1 Polywog & $5 Kappa tiers:
These are here for those of you who can't afford or don't want to sign up for the higher tiers, but you still want to help out as you can.
Includes:
invitation to join the Topless Topics Mailing List (along with everyone else…)
$25 Kelpie Tier:
NEW: Invitation to join my Patreon donor-only Snapchat, where you'll get an inside look at my everyday life, plus you'll be the first to hear about any new videos, features, etc. that are in the works! (Nothing pornographic, so if you sign up for this tier then get mad I'm not making porn for you, you have only yourself to blame)
1 Digital Print of your choice per month, choose the image you want from https://www.etsy.com/shop/ToplessTopics then email your choice to toplesstopicstv@gmail.com after your donation is charged (use the same email you use on Patreon so I can match up the donation!)
$50 Naiad Tier:
 NEW: Invitation to Patreon donor-only Google Hangouts and Community Gaming events, where we can all get to know each other by playing games together and/or having engaging video chats! NOTE: NO PORNOGRAPHIC CONTENT WILL BE PROVIDED, AND REQUESTING ANY WILL GET YOU BANNED FROM PATREON/MY SOCIAL MEDIA ACCOUNTS/ETC!! Go to a porn site and leave me alone if that's your only goal here!!
$100 Leviathan Tier:
Create a 1-on-1 video with me, Cleo, and have it uploaded afterward to the Topless Topics Website! Previously, the videos were in private only. However this was constantly exploited by perverts who ignored all my warnings and would shamelessly masturbate right on camera, which is extremely disrespectful to the entire "normalize female toplessness in a NONSEXUAL setting, just like males get to enjoy" ideology that is behind this whole thing!! So I'm going to try out this method–we'll do 1v1 video chats (if you want to) BUT those videos will then be uploaded to the Topless Topics website for everyone else to see! I'm hoping trying this format will finally deter all the perverts who insist on jacking off in videos with me, no matter how often I tell you that doing so will simply get your rude-arse banned from all Topless Topics content!!
5 Digital Print of your choice per month, either select one of the  5-image Photosets, or five prints of your choice, from https://www.etsy.com/shop/ToplessTopics then email your choice to toplesstopicstv@gmail.com after your donation is charged (use the same email you use on Patreon so I can match up the donation!)
I think that's about it (at least everything my sleep deprived brain can think of at the moment), so thanks as always for your support, receive notifications about new videos and other news by checking out the site toplesstopics.org, and/or by following me on our myriad social media platforms, all links provided below! See you next time!
FOLLOW TOPLESS TOPICS ON SOCIAL MEDIA:
(Listed in approximate order of how often I update them)
OFFICIAL WEBSITE:
(Phew, that was a lot of links! Hopefully you can sympathize with me a little bit on how hard it is to keep everything up to date XD)
Thank you again for your support!