Watch for free on TROM:
Visit my TROM video page to see all my other uploads!
https://videos.trom.tf/c/toplesstopics
Originally recorded 2018 I think, and uploaded to my now-banned Youtube and Vimeo accounts. Which is a huge pity, because I think this interview is incredibly insightful, interesting and educational on the realities of sex work, as well as where mere nudity ends and actual sex work begins.
You can find Edyn Blair on Twitter, and search for her by name ("Edyn Blair") on the adult video website of your choice!
https://twitter.com/edyn_blair

Interested in helping to spread the word about Topless Equality?
Then please join the Topless Topics Promo Squad! Find out why and how here:
You might also be interested in helping fund more ambitious Topless Topic projects by donating!
Please note that no amount of donation will entitle you to sexual content–including videos of me touching myself, my breasts, etc–no matter how much you claim to be a legitimate supporter of topless equality, so don't even ask or I'll just ban you. Trust me, you're not the first one to offer me money to violate my morals.
Other Ways to Help Topless Topics Grow
Please always like, comment, share, etc. on every and all social media platform you use! It really, really helps!!
When Topless Topics posts aren't banned outright (click for proof), they're almost always "shadowbanned," i.e. hidden from search results, and requiring a logged-in account marked for 18+ comment to even view. Even if someone searches for Topless Topics directly on, say, Twitter, my account WILL NOT SHOW unless that person is TO the Topless Topics Twitter profile DIRECTLY!
So it really is ineffably helpful for Topless Topics supporters to share far and wild every piece of my content you find useful, entertaining, or otherwise worth watching, so I can spend less time endlessly jumping through hoops just trying to make my content available for viewing, and more time actually making new videos!!
You can find a simple-to-follow, illustrated guide on how to retweet, share, and best of all, make your own ORIGINAL social media posts linking to my content, here:
---
Promo Squad: Here is a SFW thumbnail for you to post to social media!
Detailed guide on how to create an ORIGINAL post, which is far superior to merely retweeting one of my existing social media posts for the reasons described in this link, can be found here: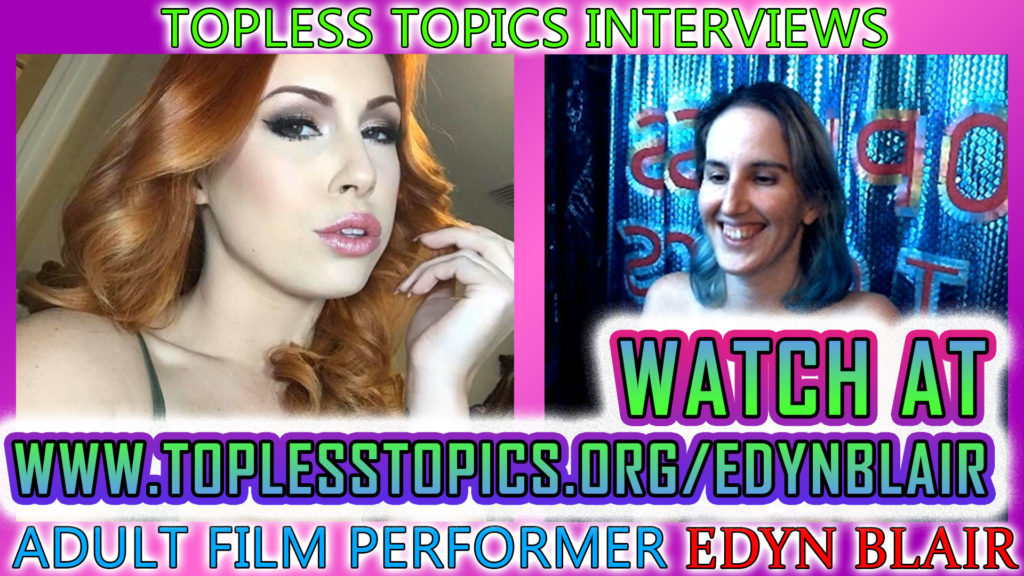 NEWLY RE-UPPED TO THE LBRY/ODYSSEE PLATFORM!
https://open.lbry.com/@ToplessTopics:c/edyninterview-uncut-LBRY:d?r=3DH2HZmtJi6FnUPHpBtknL9uKMJLugCo
Unfortunately you'll have to have a logged-in account with "show mature content" enabled to see it, but since Youtube and Vimeo both deleted my channel (see www.toplesstopics.org/fornow and www.toplesstopics.org/fuckvimeo for more information on that saga) then I'm pretty much out of options for where else I can upload.
As for other updates on the future of Topless Topics, I encourage you to subscribe to the social media platforms of choice listed at www.toplesstopics.org/contact and I'll post any time I have a newly re-upped video or other content to share, and for now (in May 2021) I'm still doing weekly gaming/art livestreams–now on Twitch, which you can watch Saturdays 3-7pm PST at www.twitch.tv/cerigotgame
The original description with this post:
Oh my god, I don't know what's up Vimeo's butt but it took four tries at 16 hours to upload this video!! TT_TT
Anyway, here's the "long, uncensored and uncut" version of my interview with Adult Performer, Stripper/Erotic Dancer, and Porn Star, Edyn Blair! She was super nice and fun to talk to, and I hope to do some more interviews with her on specific subjects in the near future!
I'll be putting together smaller "highlight" reels of this interview, for the attention span-disabled. But I wanted to get this version up before I took any longer putting it together >.< Even without cuts, I still had to do some work getting the different video and audio sources in sync (and I recorded the interview on my new laptop without a second screen available yet, so it didn't turn out as pretty as I wanted it!) Oh well, we'll do better in the next interview~
Follow @Edyn_Blair on Twitter and Instagram for sassy commentary and/or updates on her future projects, and find her adult videos by searching PornHub, Redtube, or whatever your favorite spank bank depository is for her name: "Edyn Blair." And leave a comment saying you found her through Topless Topics! 😀