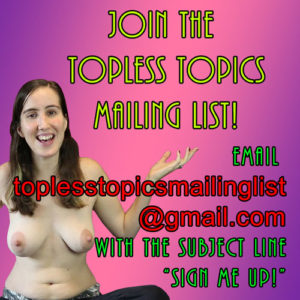 I decided I'm going to post outgoing Topless Topics Mailing List Editions here on the site as well, so that those of you who sign up in the future can always go to these posts to read up on past editions. If you are not yet a member of the mailing list and you want to sign up, please just send an email to toplesstopicsmailinglist@gmail.com with the subject line "Sign Me Up!" and I'll add you as soon as I can! Or if you want to be removed from the list, please just send me an email with the subject "Remove Me Please" and I'll take you off right away. Thanks, guys!
Topless Topics Mailing List Edition #2
Originally sent out 7-22-2018
Hello and welcome everyone to the second ever Topless Topics Mailing List Edition! Thanks for signing up and I hope this helps us all stay in communication, even as EVERY SINGLE social media platform continues to ban me over and over e.e (Youtube just re-banned a 4 year old video that they've previously banned, reinstated, then banned again multiple times already. Oy vey.)
New Videos
I'm afraid I don't have much to report this week, mostly because my toddler Link has been out sick all week, meaning no daycare, meaning no opportunity for me to work x.x I still have the footage I and my mother shot at the Rooster Rock Nude Beach, which I managed to get out one video about before mom duty took over: 
https://www.toplesstopics.org/rooster-rock-nude-beach-recap/
 As for the video and photographs we took at the beach itself, Link seems to be feeling all better so I'm hopeful I can put him back into daycare tomorrow (Monday) and finally get some work done!
Donation Reward Feedback Request
So as you may have heard in the last Mailing List email (which you can read here if you weren't signed up to the list yet or didn't receive it: 
https://www.toplesstopics.org/topless-topics-mailing-list-edition-1/
) I've been reworking the Patreon Donation Reward Tiers, trying to think of things I can realistically offer without creating an impossible amount of work for myself (I'm just one person after all) and without paving the way for perverts who are only donating in the hopes of getting me to do porn for them (it doesn't matter how much I say NEVER, I still get inundated with perverts thinking that they're somehow the exception…) I did a big write-up about the rewards I have up so far in the last email, or you can read about them yourself on the Patreon page (as well as sign up and/or change your donation tier if you want) here: 
https://www.patreon.com/ToplessTopics
And as part of improving the rewards I have to offer, I put together a feedback form on the Topless Topics website for anyone to submit their own ideas to. You do NOT need to be a current or future donor to submit your feedback, this form is open to everyone! Please consider checking it out and letting me know your thoughts!
Upcoming Local Topless Equality/Feminism/Civil Rights Events
Finally, you may have heard me mention in the past that one of the features I really want to have on the website is an interactive calendar where users can look up by dates and/or areas upcoming topless equality-related events, so you can show your support for equality in person! Well, I'm not quite to that stage yet, but I did make a public Google Calendar that I'm custom-adding events to, and I would greatly appreciate if you had any upcoming events to submit to it!
And as a sign-off, check out this neat composite image that Topless Topics supporter Brian created out of one of my Sauvies Island pictures
​
Thank you so much and I hope to communicate with you more in the next mailing list edition!
For other methods of staying up-to-date with Topless Topics videos and the community, please follow all our social media accounts, listed below in approximate order of how often I update them:
OFFICIAL WEBSITE:
(Phew, that was a lot of links! Hopefully you can sympathize with me a little bit on how hard it is to keep everything up to date XD)
Thank you again for your support!